ShanghART H-Space, Shanghai Nov 05, 2006 - Nov 30, 2006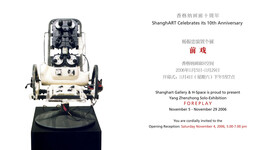 Using innovative techniques Yang Zhenzhong expands the credo that UNDERNEATH EACH PICTURE THERE IS ALWAYS ANTHOR PICTURE into UNDERNEATH EACH PICTURE THERE IS ALWAYS A SPEIFIC MEDIUM. The exhibition FOREPLAY focuses on these mediating devices that constitute the imagery of Yang Zhenzhongs exceptional work, whether it is video, photography or installation art.
Yang Zhenzhong involves his audience in explorations intended to generate visual effects and stimulate feelings and thoughts to bring about unforeseen experiences and multiple points of view. FOREPLAY provides an ample chance to view a practice that resists any specific style, medium or material.